The Smarter Way to Recruit Drivers
Manage, Hire & Retain Drivers from Anywhere on Any Device.
Simple, affordable Driver Recruiting & DQ File Management Software
Always know where
Every driver lead stands.
Making it easier to fill trucks, while staying compliant.
Affordable & Easy to Use
You can be up and running in 10 minutes or less. Best of all we're here to help whenever you need us, by chat, by zoom, email or just give us a call.

CDLApps simplifies the capture of critical documents, ensures nothing is ever missed, and alerts you in advance to critical items that require action!

Developed with simplicity and affordability in mind, CDLApps simplifies the capture of critical documents, ensures nothing is ever missed, and alerts you in advance to critical items that require action!.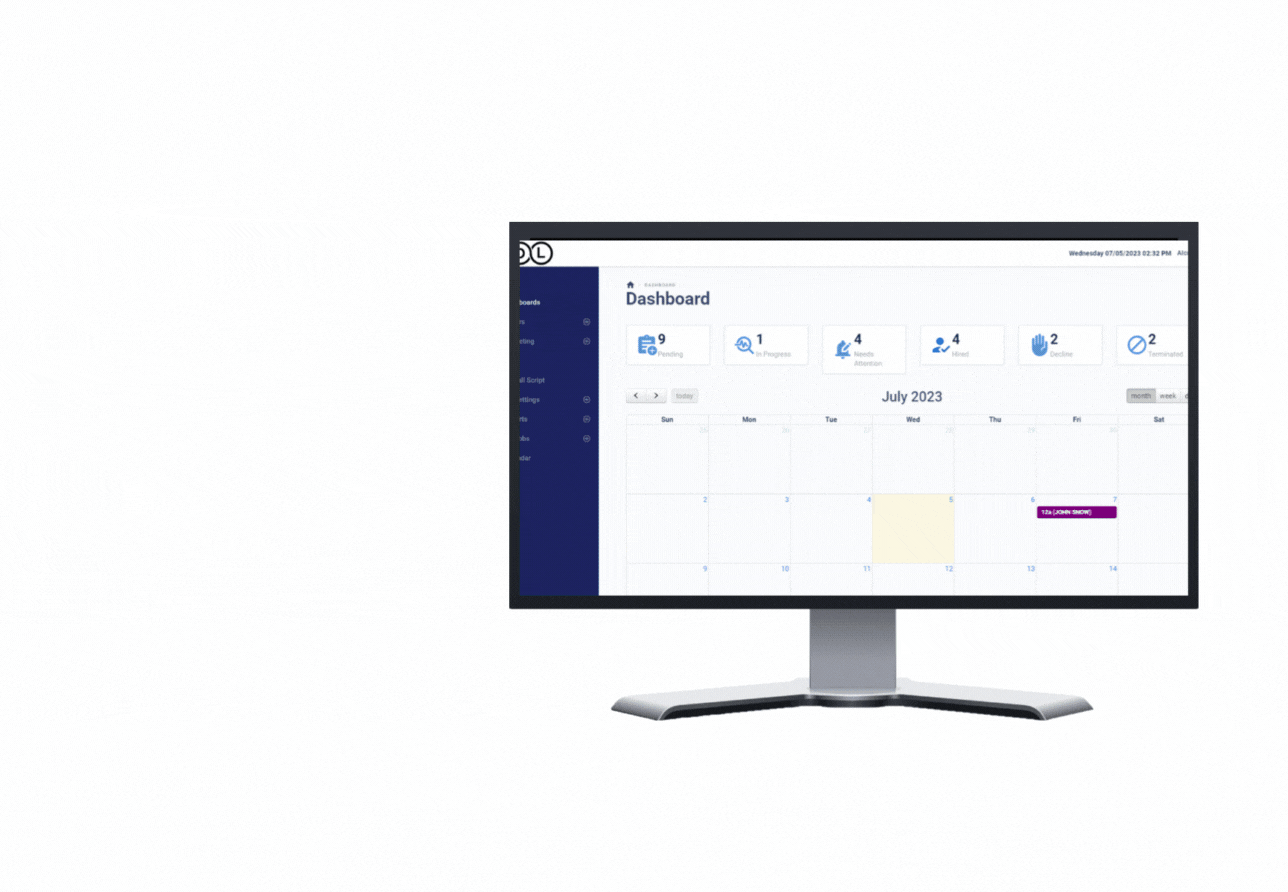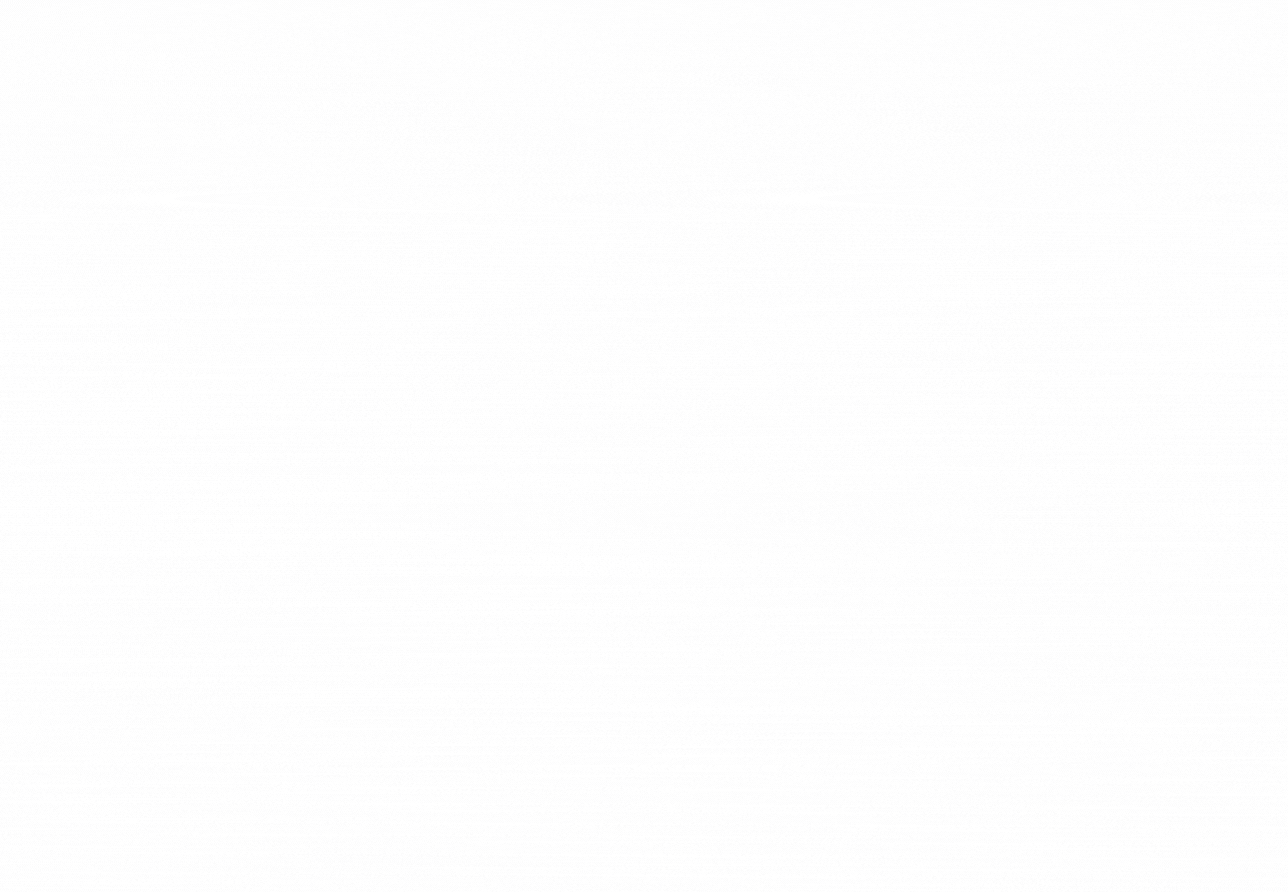 CDL Candidates complete a trucking job employment application on a branded application portal that is web mobile friendly or can download the app from the app store.
drivers can upload their documents, automatically generating their profile, including geographical areas, days, and time of work they would prefer to work, as well as HR and compliance information; no data entry by you needed.

Within minutes of receiving new applications, you receive an email summarizing the applicant's qualifications including a ten-year wok history, traffic convictions, accidents, and other critical information used in your hiring decisions.
API Technology
Integrate anything, automate everything!

Integrate our recruiting software into your own customized application utilizing our Plug-And-Play API Technology. Connect to external applications like DocuSign that utilize web services to leverage and expand our platform.

CDL drug and alcohol clearinghouse, PSP and MVR integrations are also available in our premier package.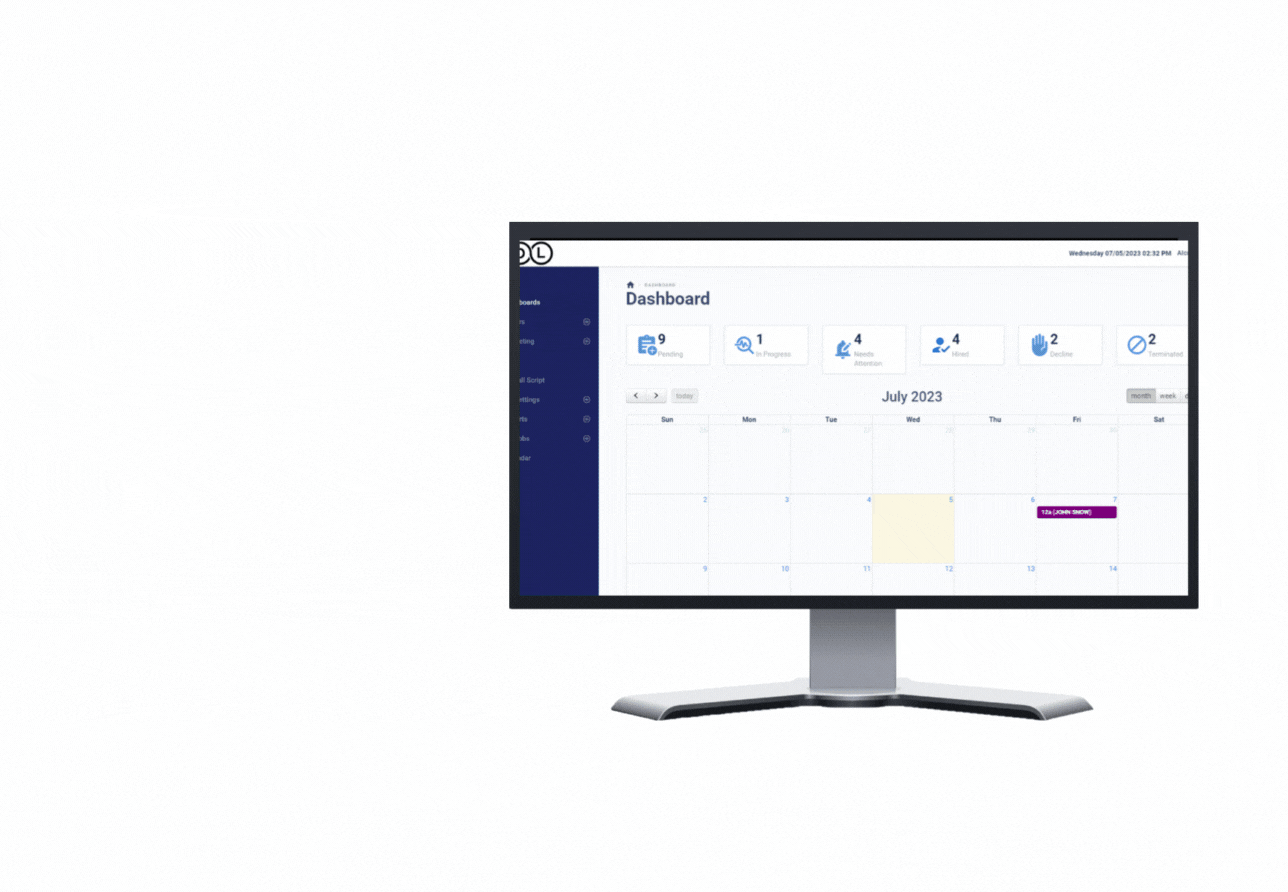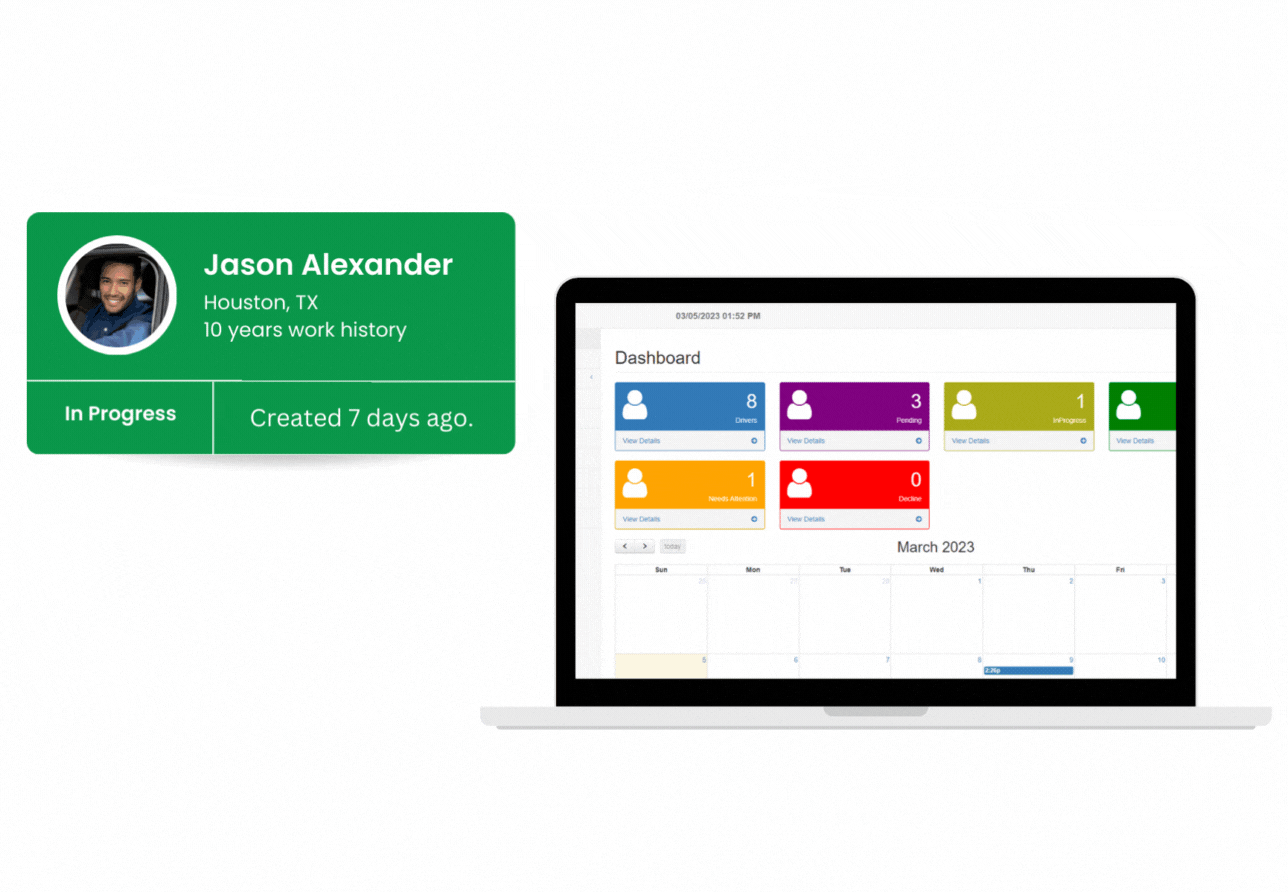 FMCSA Compliant
DOT Compliant truck driver employment application forms that can be printed with company logo, digital signatures and drug and employment verification release forms. Cloud based driver file management helps keep compliant.

Part 391 of the Federal Motor Carrier Safety Regulations (FMCSRs) specifies exactly what types of documents must be included in a DQ file, both initially and on an ongoing basis.
Tracking & Analytics
CDLApps is the low-cost software solution that truck fleets use to easily manage driver recruiting, DQ File Management and compliance with FMCSA guidelines.

Monitor Retention and Track where CDL driver employment applications are coming from, with Charts and Analytic Graphs to show statistics on driver applications.

CDLApps notifies you by text and email for all missing or expiring documents as well as alerting the driver. Easily send needed forms to drivers for completion on any device. Allow drivers to upload needed documents from any device directly to their record.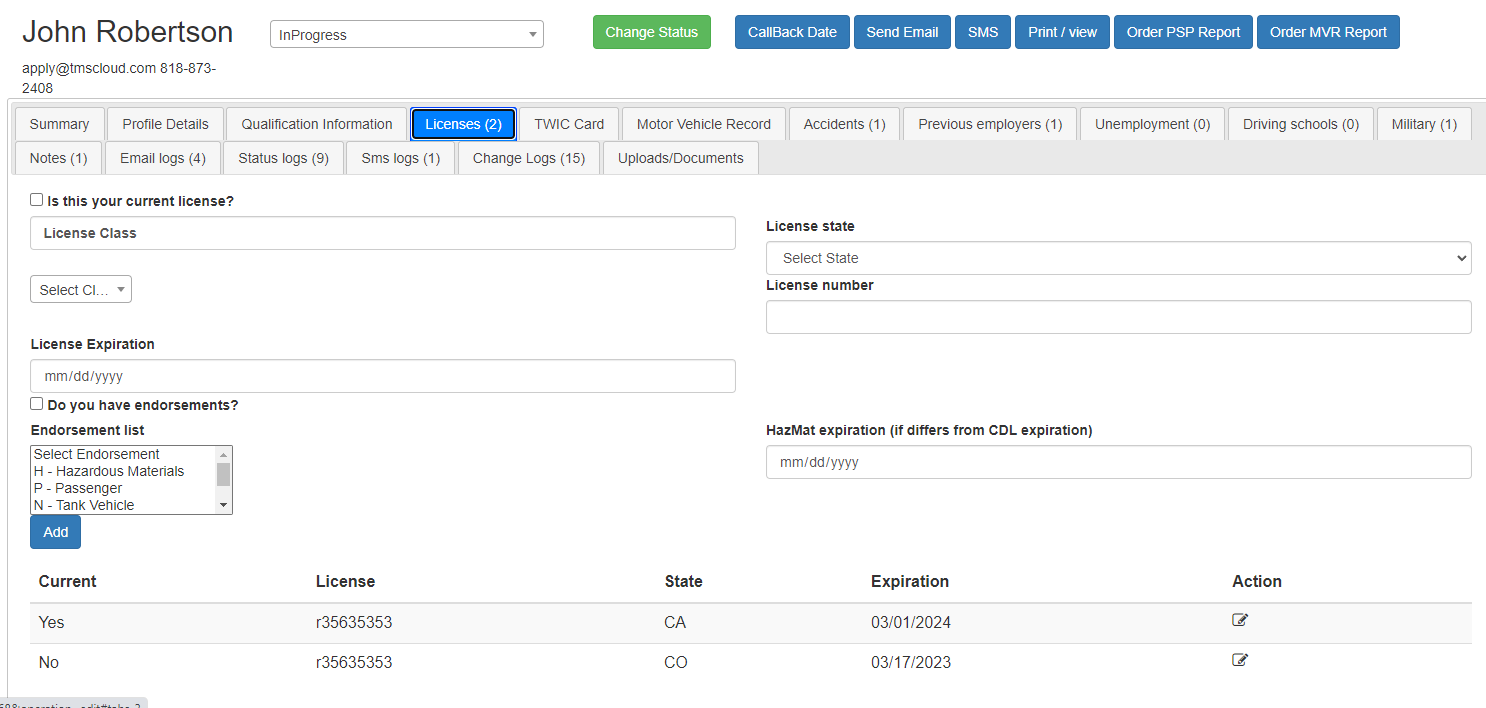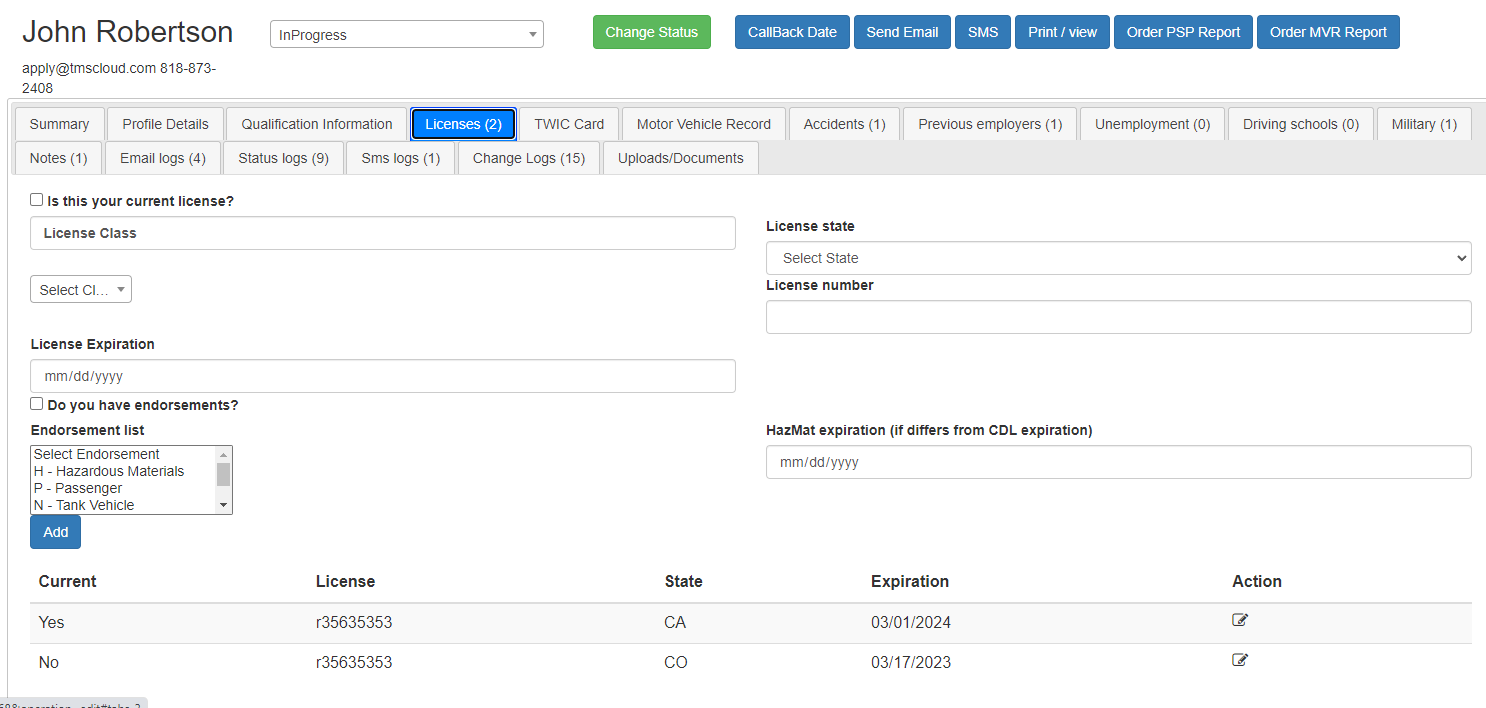 Digital Marketing
We help design online company branding and customization of landing pages, Facebook, Instagram and social networking campaigns all integrated with the driver applications.

Drip email and SMS text message marketing and more.
Employment Verification
Part of the CDL truck driver hiring process is to automatically send previous employer verification forms via the driver manager profile. DocuSign integrations are also available. Upload signed request are then linked to the drivers profile. Electronic DQ (Driver Qualification) file manager allows to quickly access any documents.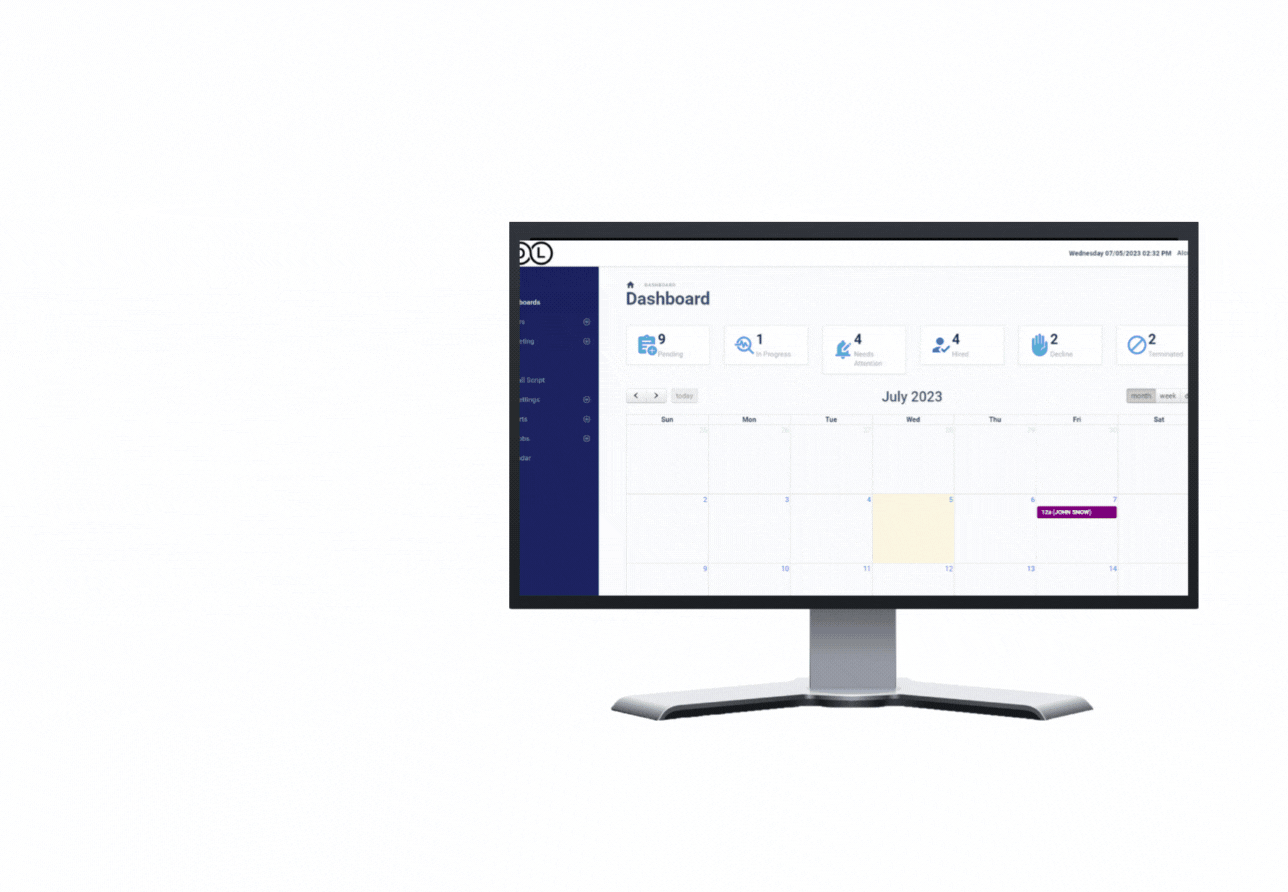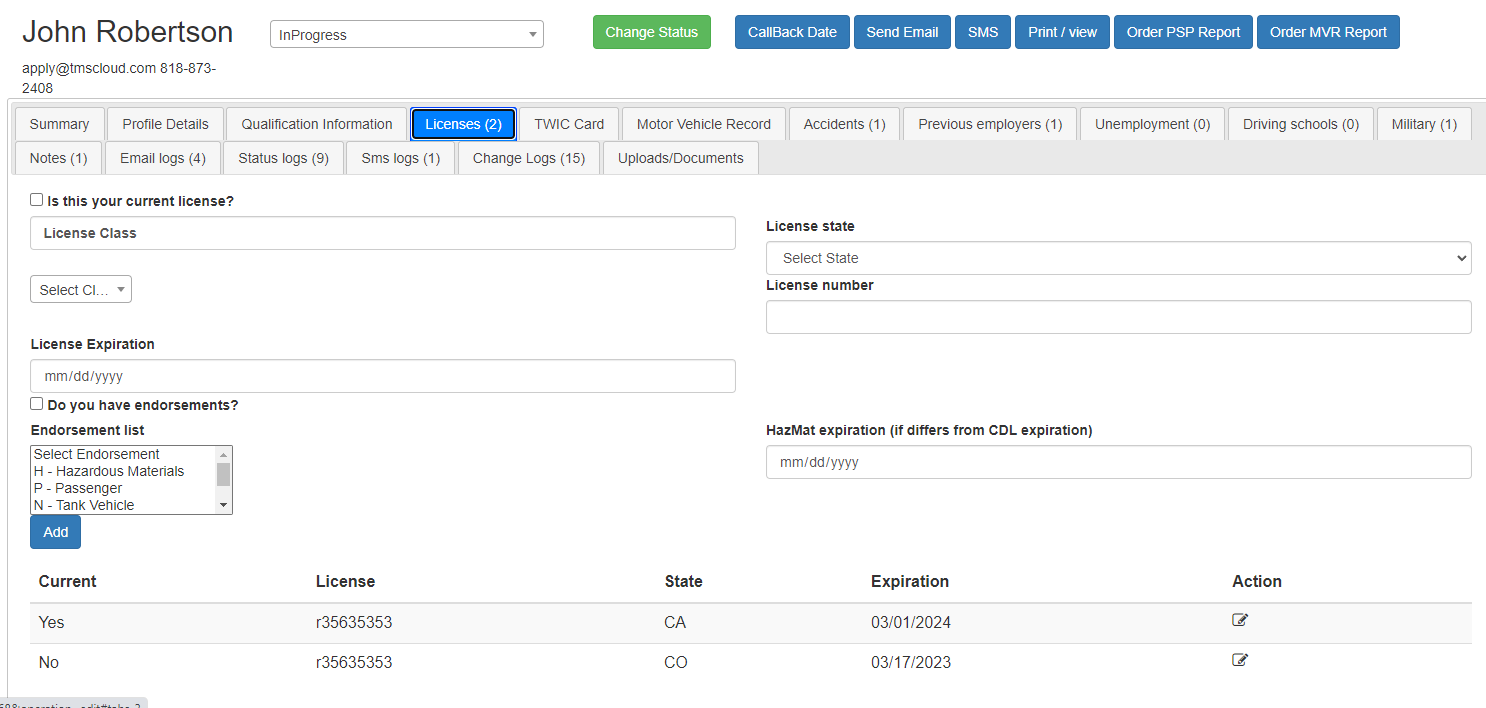 Communication
No one slips through the cracks. Chat by sms text message or Email. Create personalized templates to avoid repetitive responses. Also with trigger-based AutoResponders, drivers are sent automatic emails and sms on new registrations.

Send your application link to drivers by email or text message while you have them on the phone. Within seconds drivers go from inquirer to applicant.
Auto Responders & Triggers
if you wait too long to respond a potential qualified driver may lose interest or feel disrespected. Worse, they may be contacted first by one of your competitors and completely lose focus on your company. Let No Lead Go Unanswered

Automatic email and SMS reminders with custom messages can be delivered to candidates to help streamline the application process and free up your recruiting managers time so no driver falls though the cracks.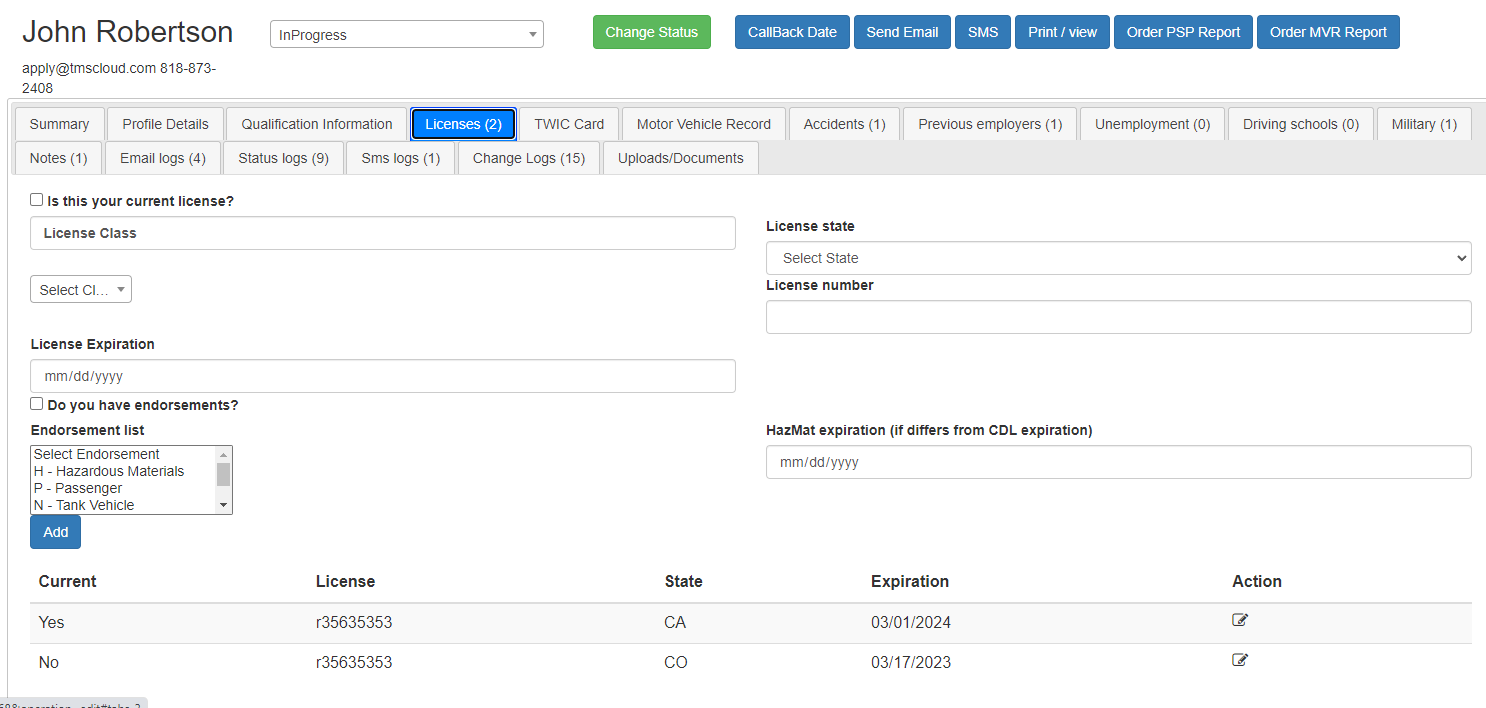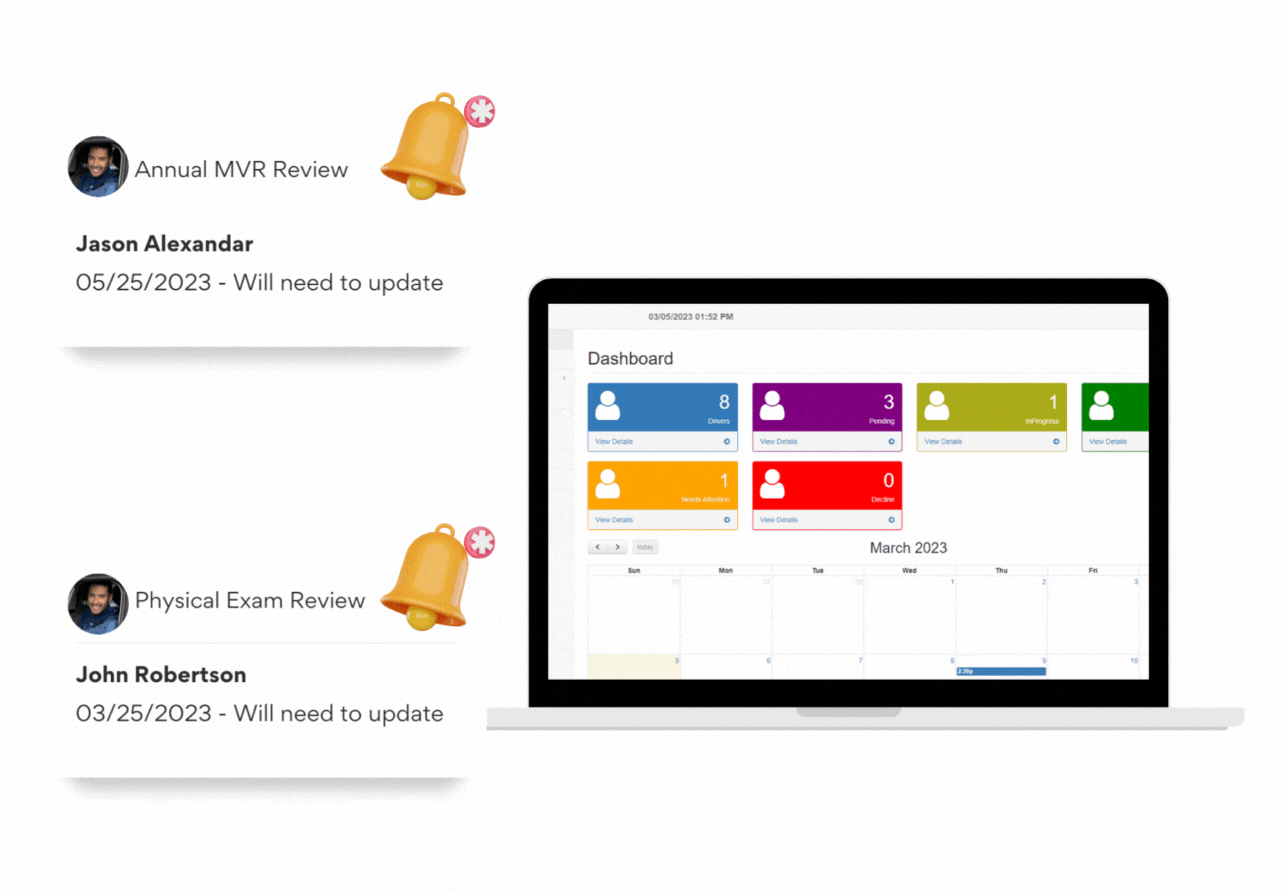 Alerts & Reminders
Intuitive dashboard calendar to remind recruiters of all DOT regulatory expires. Notifications are sent via email, and sms text to admin. From annual driving record review to when a driver's Med Card expires, birthdays, drug test and more.
Now that you have some drivers in the system ..lets learn more features on how to manage them…
From the driver's  profile page you can manage every aspect of the drivers onboarding process
Once the driver has updated more information they re-submit the application for review again.
In some cases you will still need to talk to the driver to get more information.
This is when our call scheduler helps manage driver call backs.
Keep in contact with driver recruits by using a more modern platform that utilizes Email and SMS Direct chat.
We make it easy for your recruiting department to communicate with the drivers and answer their questions fast with a built in FAQ and Driver out call script.
Communicating with multiple drivers on different channels can be exhausting on your recruiting team. CDLapps software makes it easy by centralizing all forms of communication into one easy to use dashboard. 
Once a driver application is completed, reviewed and verified and meets all of your requirements, you can change the status of the driver to hired.
We Make Fleet Management EASY!
For carriers of all sizes, our Fleet Management Carrier Software can help streamline your driver recruiting process by providing you a cost effective solution that starts at pre-hire and continues through the lifecycle of a driver! In addition to customized integration and
API & web services technology allow for a paperless process and management system in the cloud.

Fuel Card Management
Track fuel usage, set purchase limits and find cheaper fuel to provide convenience for your drivers – and the controls you need to drive down cost.

Application Management
End the paperwork pain. Customize easy-to-follow inspection checklists for your drivers. Easily manage driver recruiting, DQ File Management and compliance with FMCSA guidelines.

Trailer Management
Include fleet management, trailer disposal, fleet inspections, appraisals, sales, rentals, leases, and lease negotiations.

Company Branded PDF's
Raise brand awareness by customizing and branding your digital forms

Digital Signature Capture
Sign Anywhere in the World. Make gathering signatures easy. Capture signatures on any form. Add an electronic signature field to your forms in seconds.

Alerts & Notifications
Notifications are set up by the user and are triggered by specified alerts to send an email, SMS text, or a push notification via the mobile app.
Streamline your recruiting process in the cloud with paperless document management
Our customized cloud-based carrier tools can help streamline the recruiting and administrative processes of owner-operator & driver on-boarding and retention.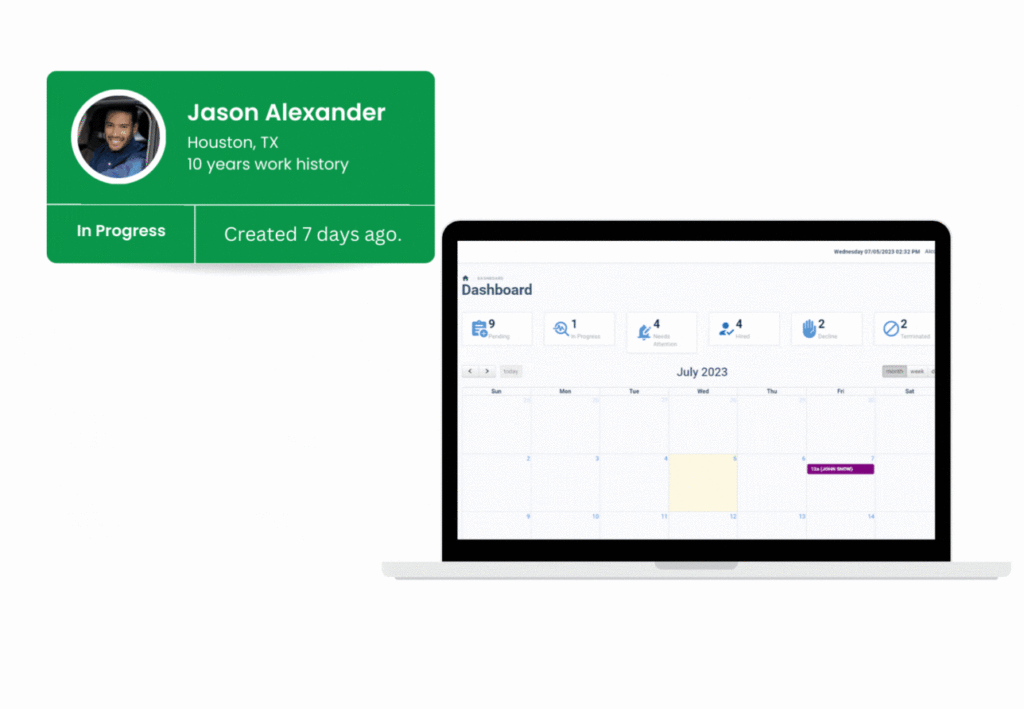 Drivers apply online using a simple user and mobile friendly pre-qualification application or recruiters can use back-end phone application to take potential leads by phone.  Once the application is submitted both the driver and management are immediately sent email confirmations.
The management email notification will contain cross checking information that will show how qualified the driver is to matching your onboarding requirements, as well as the application information along with digital signed DOT compliant release forms.
As management is reviewing the new driver application, the driver has also received a cross requirement check email that indicates if any additional information is needed based on the information submitted. The driver is given a portal link with username and password so they may log in at anytime to complete their application. The driver portal is custom to your company and will allow the driver to upload documents, sign documents and update information.
All new driver applications immediately go into your database. From the admin portal the application can be printed with your company logo, bar-code and all DOT compliant application language. Recruiter can easily see matching score to determine if driver qualifies to move on to getting further information like, background check, DAC Report and MVR Reports. All of which we have custom API that integrate into your admin for easy access to this data and linking with their driver profile.
Job Verification Request are auto populated with past 10 year work history data, manual data re-entry is eliminated. Drivers sign all release forms electronically, so initial process of starting application cross check for verification is paperless. The Data and Analytics shows what status applications are in, and metrics to show how many applications received and hired.
After a driver has passed your screening process and is ready to be hired, recruiters and safety can schedule driver orientation and this can be monitored in the admin. After driver is on the fleet you can then manage their Tractor Profile, Fuel Cards, Trips location and GPS updates and more with our other fleet modules. Auto alerts are setup for the following
Driver Orientation

Driver License Expiration

Driver Annual MVR Review

New Lead Call Backs

PM Service Schedule
Try CDL APPS and see how smooth operations can be
Schedule a demo today to see how CDLApps.com can help you run your back office, so that you can expand your company.